In the news!!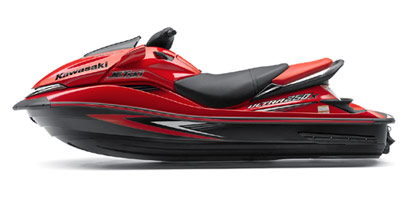 Ultra 250!
Kawasaki floats out a new flagship

Big, long, sleek, and it has 250 supercharged horsepower under the seat -- bigger, longer, and faster than any boat Kawasaki has ever honored with the Jet Ski name.
The Ultra 250 isn't just some warmed over version of the proven 15F; it's a completely new boat from haul to seat to bow to stern. While the engine may be familiar, it's fitted with a Roots Type supercharger providing dramatic, yet smooth acceleration from idle.
To handle this huge increase in power, Kawasaki designed a completely new and massive 155mm pump (the same diameter as the U.S. Military's largest conventional artillery piece) and corresponding new three blade impeller. To feed water to this XXL pump, Kawasaki added a new eight vane intake guide. This ensures water is coming in an efficient manner providing plenty of 'traction' compared to the older six vane system.
This debutante is joined by a sister ship, the Ultra LX, a long range touring boat. The Ultra LX is big step up in the large runabout class. Kawasaki recognizes the growing long range recreational touring trend, and they put up a serous contender.
The Ultra shares all of her sister's under the seat upgrades minus the supercharger. With an efficient 160 horse power engine combined with a 20.3 gallon fuel tank, serious long-distance range riding is possible.
Both Ultras have an all new deep 22.5 degree hull which not only helps handle the massive power loads of the new engine, it also helps with cutting through chop. Another addition is a splash deflector on the hull.

Kawi's 2007 line will see the proven STX-15F and 12F return, along with the stalwart SX-R standup.
Keep checking in as we will have our ultra250.com up and running soon!!
.
Thanks to Ride Magazine (AWA). for the text!