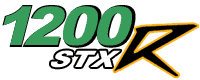 2002 Kawasaki JET SKI® 1200 STX-R

Kawasaki's newest addition to its broad line of industry-leading personal watercraft gives serious riders out-of-the-crate performance potential that will make them the envy of fellow enthusiasts. The new JET SKI® 1200 STX-R watercraft combines facets of two of Kawasaki's premier models, the JET SKI 1100 STX D.I. and the JET SKI Ultra 150, into one personal watercraft that highlights exceptional acceleration with competition-level handling.

1,176cc - Large displacement engine provides strong torque and acceleration. Constant-velocity carburetors - Smooth response at all rpm and increased fuel economy.
Dual counter rotating engine balancers - Reduce engine vibration for a smooth, comfortable ride.
Variable-rate Superlube oil injection system - Provides proper oil supply at all engine speeds and reduces oil consumption and exhaust smoke.
Kawasaki Throttle Responsive Ignition Control (K-TRIC) - Adjusts the timing for each cylinder according to engine rpm and throttle position, allowing the engine to use optimum ignition advance in all conditions for better throttle response and power throughout the rpm range.
Waterproof, maintenance-free, digital direct current capacitor discharge ignition (DC-CDI) system - Helps ensure easy starts and consistent low-speed running.
Waterproofing ensures reliability and durability. Digital microcomputer delivers a hot spark at exactly the right time for maximum performance.
Water-jacketed dry exhaust system - Reduces noise level and under-hood temperatures for better power.
Three-blade oval-edge stainless steel impeller - Pitch provides maximum performance and efficiency in race-type water conditions along with incredible durability.

Hull Features:
Deep keel - Ensures better wave cushioning, precise cornering and greater stability at high speed.
Long inner strakes - Located close to the center of the deep-V for increased top speed.
Cab-forward design - Provides more space for passengers and the open rear deck provides ample room for putting on skis or a wakeboard.
Hull is stable for easy deep-water boarding.
High-performance racing-style pump cover - Improves straight line tracking and "grip" in turns.
High-performance racing-style sponsons - Help the hull get up on plane and provide more aggressive "grip" in turns.

Convenience Features:
Kawasaki Splash Deflector (KSD) - Helps keep spray off the rider.
LCD Multifunction Meter System with speedometer, tachometer, hour meter, clock, trip distance, trip time, fuel level, oil level and warning lights. - Allows operator to easily monitor ecessary information. Alerts operator to low oil, low fuel or high engine temperatures.
Shielded jet propulsion system - Greater protection from damage.
Storage compartments: bow and glove box. - Carry fire extinguisher, tool kit and more.
Large capacity fuel tank - 14.0-gallon tank allows more riding between fill-ups.
Finger-type throttle - Reduces hand fatigue and increases comfort.
Waterproof magnetic ignition key - Prevents unauthorized use of watercraft.
Maintenance-free battery - Never needs water.