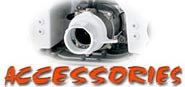 R&D Ultra 150 Hydro Force Steering Nozzle
The new R&D Hydro Force Steering Nozzle for the Ultra 150 is a direct replacement nozzle. The cast aluminum lengthened design delivers a 1 mph speed gain and improves the turning radius. Allowing you to carve tighter turns with an increased positive feel.


UMI Steering unit
Increased steering head angle, lower steering head height, allows for a more aggressive forward riding position and improved handling. Billet steering arm offers two steering ratios. Eliminates all play or binding common to the factory steering systems. Stainless steel steering shaft rides in sealed bearings rather than plastic bushings. Steering head and bearing housing is anodized clear for corrosion protection. Steering head has O-ring seal designed to keep water out of the bearing housing.